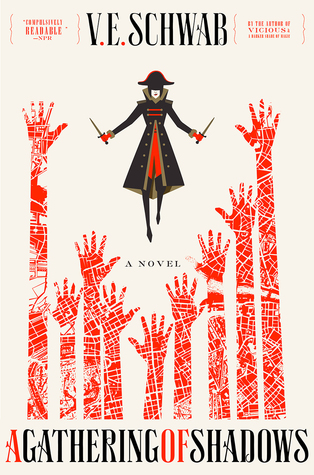 Title: A Gathering of Shadows
Author: V.E. Schwab
Published: February 23rd, 2016 by Tor Books.
It has been four months since a mysterious obsidian stone fell into Kell's possession. Four months since his path crossed with Delilah Bard. Four months since Prince Rhy was wounded, and since the nefarious Dane twins of White London fell, and four months since the stone was cast with Holland's dying body through the rift – back into Black London.




Now, restless after having given up his smuggling habit, Kell is visited by dreams of ominous magical events, waking only to think of Lila, who disappeared from the docks as she always meant to do. As Red London finalizes preparations for the Element Games – an extravagant international competition of magic meant to entertain and keep healthy the ties between neighboring countries – a certain pirate ship draws closer, carrying old friends back into port.




And while Red London is caught up in the pageantry and thrills of the Games, another London is coming back to life. After all, a shadow that was gone in the night will reappear in the morning. But the balance of magic is ever perilous, and for one city to flourish, another London must fall.
My Musings
V.E Schwab, how dare you do this to me?! Yes I am talking to you, author of A Gathering of Shadows.
How dare you write that HUGE cliffhanger? I can't deal with life right now.
You know how you're reading a book and you know you're by the end and then you turn the page and it's over? That's what happened when I finished this book -in a bus, mind you, so I couldn't react properly-. There was a lot of screaming, (in my mind, but still). I mean we were looking for this answer for the entirety of the story and ?!?!?! Wow. I can't.
Okay so now I am going to try to share with you my thoughts on this book, which is the second one in the Shades of Magic trilogy. I should probably mention the final book will be coming out on February of 2017. Seven months. It's not like I'm counting or anything.
Anyway, this book takes place four months after ~everything~ that happened in A Darker Shade of Magic.
Content
Although the plot is great, I do have to admit this is the kind of book that picks up after the second half. I found that it took me a bit to get into the first half, and then things got a lot more interesting and by the end I just could not stop reading it.
The writing was really good, I enjoyed how the story is written in third person because we get more than what the character thinks or does, and that it's told from more than character, so we get different perspectives on the story as a whole.
Romance
I'd like to highlight the fact that romance isn't the most important thing in this story. I started reading the first book thinking I would get a high dose of it but that wasn't the case at all. In fact the romance in this story is such a slow and precious burn. I loved just how unexpected and unconventional it is. Talking about this reminded me of a sentence of the book: "Whatever he feels for me, it isn't love". "Because it isn't soft and sweet and doting"
The characters
Lila, oh Lila Bard.
You know how some characters just inspire you? She is one of those.
With flaws and all, trying to figure out who she is but knowing with certainity that she doesn't want to let life pass her by, she just wants to live.
Kell and Rhy, are also complex characters man. They make me kind of sad, really. Because it is so hard to see them struggle with what happened and specially Kell who has what I'd call an existencial crisis. I love the interaction between Kell and Lila because she's taught her so much. They balance each other out.
Alucard Emery, you are such a puzzle. I just want more, more from him.
I have to say, I'm not Rhy's parents biggest fan. I kind of get where they are coming from but, DO YOU UNDERSTAND THE EXTENT OF WHAT KELL DID?? Ok.
I don't know if I should admire or despise Holland, to be honest. Now I'll explain, he is definitely determined. He knows he wants to save his world and he doesn't care what he has to do to achieve it but still DAMN YOU HOLLAND. Always fucking shit up.

.
Finally, I just have to mention how creative the whole concept of this story is, at first it took me a bit to understand it and I just can't wait to see how everything works out. Who's gonna get the happy ending? Is there even going to be one? This is such a great series. Definitely give it a read if you're into fantasy.
Until next time!
Ale.