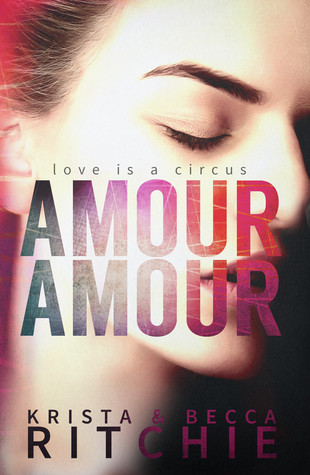 Title: Amour Amour
Author: Krista & Becca Ritchie
Published: December 12th, 2014.


Love is a circus. "Every day," he says lowly, "I hold a person's life in my hands. The circus is based one-hundred percent off trust. I give it all to someone, and they give it all to me." The best aerial technique won't land 21-year-old Thora James her dream role in Amour—a sexy new acrobatic show on the Vegas strip. Thora knows she's out of her element the second she meets Amour's leading performer. Confident, charming and devilishly captivating, 26-year-old Nikolai Kotova lives up to his nickname as the "God of Russia." When Thora unknowingly walks into the crosshairs of Nikolai's after-show, her audition process begins way too soon. Unprofessional. That's what Nik calls their "non-existent" relationship. It's not like Thora can avoid him. For one, they may be partners in the future—acrobatic partners, that is. But getting closer to Nik means diving deeper into sin city and into his dizzying world. Thora wants to perform with him, but when someone like Nikolai attracts the spotlight wherever he goes—Thora fears that she's destined to be just background to his spellbinding show.
My Musings
I have to say I very much enjoyed reading this book. After reading this summary, I thought I would find a cliche story where the woman meets a guy, something happens with him then she realizes she is going to have to work with him and then the drama starts...But I was mistaken and I am so glad that this was the case. One of the things I liked most about the story was how things didn't go well most of the time and that made me relate to the story more and simpathize with Thora -and to actually root for her-.
Thora James, what an awesome character. I absolutely LOVED how determined she was. I admired how brave she was by going to another city to chase her dream. At one point she said something like "I am my biggest chearleader" and I thought: I want to be like her because if you're not your biggest fan, then who's going to? I HAVE to root for myself, there is no alternative. I also enjoyed her relationship with her parents because -again-, I felt like I could relate to her constant wish of not wanting to let them down.
Nikolai Kotova. sigh. Where is my Nikolai? I love how kind, generous, selfless, romantic, honest he is. I feel like I'm so used to pretentious male characters in books, so maybe that's why I loved Nikolai so much. He was so passionate too and most importantly: He helped Thora to to follow her dream and always encouraged her to do what she wanted even if he didn't always agree with her. "I'd help you every day so that you could see a better tomorrow. I will never give you any less than that."
I loved the pairing of Thora and Nikolai, in my opinion, they somehow balanced each other out. Their chemistry is something W I L D, they are just one of those couples that I can imagine with grey hair and children and grandchildren (That was so cheesy, god). I loved Timo and John too. I even loved the epilogue and that rarely happens.
So if you want to swoon because of Nikolai Kotova and their relationship, read this book. If you want to inspire yourself by someone as passionate and driven as Thora James, read this book. And if you feel like crying or shouting at the world because of how unfair the universe is at her sometimes, then read this book!
If on the other hand, you read it already, what did you think? Did you love it? Tell me what you thought of it. Until next time! :)