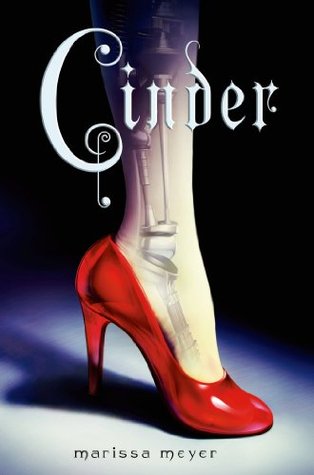 Title: Cinder
Author: Marissa Meyer
Published: January 3rd, 2012 by Feiwel & Friends.



Humans and androids crowd the raucous streets of New Beijing. A deadly plague ravages the population. From space, a ruthless lunar people watch, waiting to make their move. No one knows that Earth's fate hinges on one girl. Cinder, a gifted mechanic, is a cyborg. She's a second-class citizen with a mysterious past, reviled by her stepmother and blamed for her stepsister's illness. But when her life becomes intertwined with the handsome Prince Kai's, she suddenly finds herself at the center of an intergalactic struggle, and a forbidden attraction. Caught between duty and freedom, loyalty and betrayal, she must uncover secrets about her past in order to protect her world's future.
OHMYGODDDD. Just read that summary and tell me you don't want to read this book. I had been wanting to read this book for a loooong time. But the series isn't complete yet so I was reluctant to start it, until one day my resolve crumpled and well here I am, fangirling about this book.
The world built in this book is INCREDIBLE. Seriously, it took me a bit to get into it because in the first paragraph Cinder is using a screwdriver to change her foot, however the descriptions of this futuristic world contribute to a really smooth introduction into it. This story reminds me of the Daughter of smoke and Bone trilogy because both are so unique in their own way. Besides I love the author's idea of taking a classic tale, adding a lot more factors and turning it into something else.
The characters are so great too. Iko is so adorable, sometimes I would forget she was an android because of her sarcasm, her wish to wear dresses, ribbons, lipstick, and her excitement whenever she heard of Prince Kai. I think Linh Cinder could go on a list of 'Determined Characters that Kick Ass' because she is knows what she wants to do with her life, and she fights for it. She is a loyal and loving person. Yes, I said person, COME AT ME. She is also sassy, sarcastic but let's not forget how shy she gets around Prince Kai. I am dying at the cuteness.
I would dare to say the love story is a side thing, there are actually situations that are more important to the story, but I was never bothered by this because there.is.so.much.happening. That was the reason why I couldn't put this book down. One minute Kai and Cinder would interact, then the other Cinder would find out something very relevant about herself, and then her stepmother would ruin her plans, staying true to Cinderella's story.
This book is one of those that you'll fly through. And you're going to be engrossed in every single minute of it. You're going to squee, gasp and you're going to root for Cinder. It's impossible not to. I have already started the next book and I can't believe I'm going to have to wait for the final installment of this saga. But at the same time I am sad, because I don't want to say goodbye to Cinder just yet. Ahhhhhhh! Can't wait to hear all of your thoughts on this book? Do you agree with what I have said? I need to know!