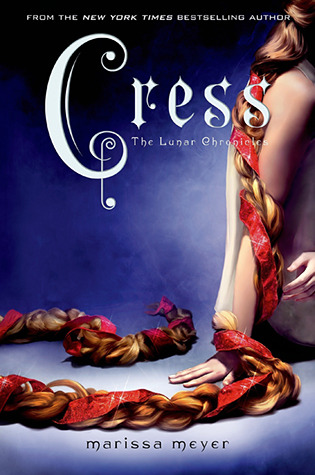 Title: Cress
Author: Marissa Meyer
Published: February 4th, 2014 by Feiwel & Friends.
In this third book in the Lunar Chronicles, Cinder and Captain Thorne are fugitives on the run, now with Scarlet and Wolf in tow. Together, they're plotting to overthrow Queen Levana and her army. Their best hope lies with Cress, a girl imprisoned on a satellite since childhood who's only ever had her netscreens as company. All that screen time has made Cress an excellent hacker. Unfortunately, she's just received orders from Levana to track down Cinder and her handsome accomplice. When a daring rescue of Cress goes awry, the group is separated. Cress finally has her freedom, but it comes at a high price. Meanwhile, Queen Levana will let nothing prevent her marriage to Emperor Kai. Cress, Scarlet, and Cinder may not have signed up to save the world, but they may be the only hope the world has.
My Musings
I'd like to start by talking about Cinder's character development (She is the main character). I am amazed, because I know that if I was in her position I would have reacted in a similar way. She was overwhelmed and scared at first, but then she realized that she had to be in charge because a lot of people depended on her. It is astonishing to go through the journey of Cinder, Scarlet and Cress and see the way her persona matures; I cannot wait to see what she's going to be like in Winter.
Again, so much happening in these books it's basically impossible to put this book down. It starts with a new addition to the story, you guessed right: Cress, a Lunar working as Queen Levana's programmer and hacker, who has been kept isolated in a satellite for seven years, with the only company of her screens, operas from Earth and her younger self programmed by her.
I don't want to make of this review an ode but I can't say anything bad about this book because everything is great, well not all of it (I am looking at you Queen Levana) but somehow there is a balance in all of the characters, I mean the ones living in The Rampion, they all have different personalities and talents and therefore they manage to work together perfectly.
The story doesn't focus on romance because there are greater things at risk BUT that doesn't mean that you won't swoon or pretty much die of angst because of characters like Kai, Wolf and Captain Thorne (who's your favorite?) I love the couples we have gotten this far, but I obviously have my favorite, which is why I have to say that the final chapters of this book were exactly what I wanted, like #asdkjbaskdbsak. YOU GUYS I HAD BEEN WAITING FOR THIS MOMENT FOR ALL OF MY LIFE (….not really).
Another important aspect is the writing style, this book –along with the others in this series- is written in third person, which allows the writers to convey more than what the main character is saying or feeling and for readers to gain a larger perspective of the story. This, in addition to the variety of characters, the incredible plot, the diversity of points of view make for a riveting story in which there is never a tedious moment, everything is believable and nothing seems ridiculous in the confines of The Lunar Chronicles.
If you haven't read these books, WHAT ARE YOU EVEN WAITING FOR? HOW DARE YOU? But seriously, do it, I don't think you won't regret it!! But, if you have read them, what do you think? Do you love them too? Tell me everythingggg. Until next time!