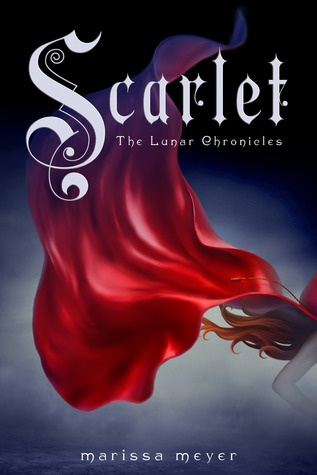 Title: Scarlet
Author: Marissa Meyer
Published: February 5th, 2013 by Feiwel and Friends.
Cinder, the cyborg mechanic, returns in the second thrilling installment of the bestselling Lunar Chronicles. She's trying to break out of prison--even though if she succeeds, she'll be the Commonwealth's most wanted fugitive. Halfway around the world, Scarlet Benoit's grandmother is missing. It turns out there are many things Scarlet doesn't know about her grandmother or the grave danger she has lived in her whole life. When Scarlet encounters Wolf, a street fighter who may have information as to her grandmother's whereabouts, she is loath to trust this stranger, but is inexplicably drawn to him, and he to her. As Scarlet and Wolf unravel one mystery, they encounter another when they meet Cinder. Now, all of them must stay one step ahead of the vicious Lunar Queen Levana, who will do anything for the handsome Prince Kai to become her husband, her king, her prisoner.
ANOTHER GREAT BOOK BY MARISSA MEYER. My god I bow down to her talent. At first I was kind of reluctant to have another set of characters in the story because Cinder and Kai, but then as things progressed I found that every person was necessary for the greater good of Earth. (heh)
Cinder has a special place in my heart but I have to say that Scarlet is a really great character. Initially I thought she was a farmer girl, who was all about her tomatoes and stuff but then we find out that her grandmother is missing and we get to see how determined Scarlet is, she will do anything to find her and it's really refreshing to see a teenager so close to a member of their family in YA. Usually the young girl or boy is so infatuated with their new love that there isn't really a family relationship. She is also very sarcastic and that is a nice balance to Wolf's more quiet personality.
Wolf was a very sweet man and a very complex character, my feelings toward him constantly changed, I swooned because of his actions, then I raged because how dare he do what he did but he was mostly cute, so I am going to leave it that. Carswell Thorne, oh *sigh*. New YA crush, like okay it is constantly said that he is handsome and even Kai hates him when he sees his photo (HAHAHAHAH) but it's his personality that I love the most, his sense of humor, his wit, he always has a comeback and I do love his relationship with Cinder, they are like a brother/sister.
There is always something happening in this book and I don't really know how can an author pull that off, because HOW DO YOU COME UP WITH CONSTANT STUFF?! But maybe that is what the multiple points of view are for in these series. I admire her ability to come up with more and more stuff. I could not put this book down, that's how good it was. The fact that I keep talking about the characters and what I liked most about them and am unable to keep this review profesional-ish should tell you that the world building in this saga is unbelievable. I don't find myself second guessing or doubting things as they happen, they seem possible and that is fundamental when reading a story. Oh! I want to emphasize on one thing: Things are never predictable in The Lunar Chronicles, and I LOVE THAT. I love to gasp and to hold a ~book (tablet if you will) to my chest because 'I can't believe thit is actually happening'.
I could write more of an essay on this book but I'm not going to. Have you read this book? What are your thoughts on it? Have they become your faves just like they are mine now? Tell me everythinggggggg. Until next time!